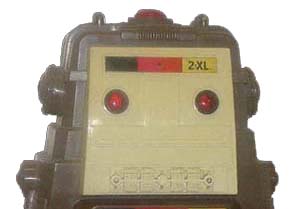 Press A to learn about the Mego 2-XL 8-Track Programs.

Press B to learn about the differences between the Mego 2-XL Type 1 & Type 2.

Press C to learn about the mythical Type 0.
Please push A, B, or C, Now.
To return to the 2-XL Robots & Programs Index, push the Question button.
You have selected A:
Mego 2-XL Types 1 & 2
The original 2-XL was manufactured by Mego Corporation from 1978 through 1981. Mego was one of the definitive toy companies of the 1970s. They're most famous for their line of 8" action figures, which covered super heroes (from both Marvel and DC) and television shows (such as Star Trek, Planet of the Apes, SWAT, and many more). Mego is also famous for being the first company to bring the Micronauts toys (called Microman in Japan) to America.

Many different companies before Mego absolutely hated the 2-XL concept! They felt that since it was an educational toy it would bomb, because kids only wanted action toys; since it would have to cost over $29.00, it would be too expensive to ever sell enough to be popular; and since it relied on seperate cartridges to work, parents would refuse to buy it because their kids would lose the tapes.

Finally, 2-XL found a home at Mego. Dr. Freeman designed and recorded all the programs that 2-XL would run on (thus giving 2-XL his distictive New York accented voice), while Mego designed the outer casing and look of 2-XL. (This is why 2-XL's mouth resembles a piece from the Micronauts Battle Cruiser toy!)

The programs worked by using an 8-Track tape. For anyone too young to remember 8-Track, it was a tape that looped and had four tracks you could choose from to listen to. Each track was in stereo, hence 4 tracks x 2 channels = 8-Track. But the Mego 2-XL didn't take advantage of the stereo part; it assigned each track to a button (Q was track 1, A was track 2, etc.) This way a 2-XL tape would have the same program recorded on all four tracks, with the changes only made in the parts of the tape where 2-XL would give you an answer. As the years went on Dr. Freeman got more and more ambitious with playing with these multiple tracks, to the point where 2-XL could have up to 3 different programs on the same tape.

In 1980, Mego made some design changes in 2-XL. The changes are purely cosmetic, but are signifigant enough that I refer to them as "Type 1" and "Type 2." (These designations are purely made up by me just for reference's sake. Technically speaking the Type 1 and Type 2 would both be considered the first 2-XL robot.) Each version seemed to have a production run of about 2 years, so neither one seems to be more common or rare than the other.